LMP2: A Packed Grid for 2023
LMP2 will see 18 cars on the grid, the largest gathering of the second tier Le Mans Prototypes outside of the 24 Hours of Le Mans. This impressive grid includes 11 Pro/Am competitors, an increase of over 60% for the LMP2 sub class compared to last season.
The field will include two FIA World Endurance Champions, with double world champions Jose Maria Lopez in the #47 Cool Racing Oreca alongside Reshad De Gerus and Vladislav Lomko and 2016 Champion Neel Jani in the #30 Duqueine Team Oreca alongside René Binder and Nicolas Pino.
United Autosports USA will enter three cars, with 2020 champion Philip Hanson joined by Oliver Jarvis and Marino Sato in the #22 Oreca, while 24 Hours of Le Mans winner Guy Smith and former F1 driver Paul Di Resta, will join James McGuire in the #23 Oreca and Nelson Piquet Jr will join Andrew Meyrick and Daniel Schneider in the #21 Oreca for the Anglo-American team.
Former ELMS race winners DragonSpeed USA returns to the series, with Henrik Hedman being joined by father and son duo, Juan Pablo and Sebastian Montoya.
Reigning LMGTE Team Champions Proton Competition move up to LMP2 with a single entry for Gianmaria Bruni, Jonas Ried and 2018 LMGTE Champion Giorgio Roda. The team got their LMP2 season off to a great start, winning the LMP2 category at the Rolex 24 at Daytona last month, with Bruni adding another title to his already impressive CV.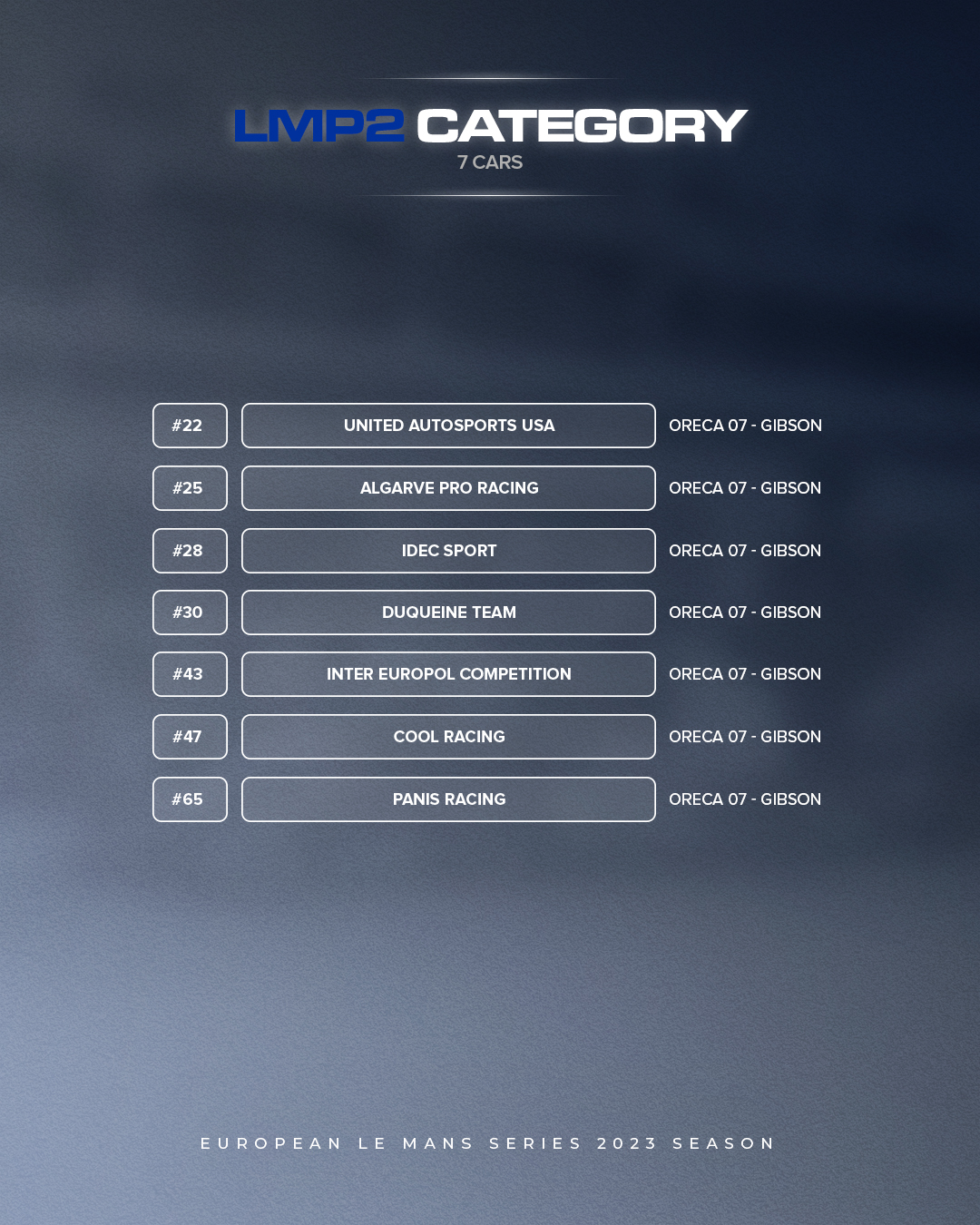 Racing Team Turkey return to defend their LMP2 Pro/Am title, with reigning champions Salih Yoluc and Charlie Eastwood being joined in the #34 Oreca by 2022 overall ELMS champion Louis Delétraz.
2019 Champions IDEC Sport return with Paul Lafargue and Paul Loup Chatin being joined by ELMS and MLMC LMP3 champion Laurents Hörr in the #28 car.
2022 Vice Champions Panis Racing will be competing once again with a single car entry, with former ELMS LMP3 Champion Job Van Uitert as the lead driver.
Algarve Pro Racing, Inter Europol Competition, DKR Engineering, Team Virage, Nielsen Racing and AF Corse all return to the European Le Mans Series in 2023.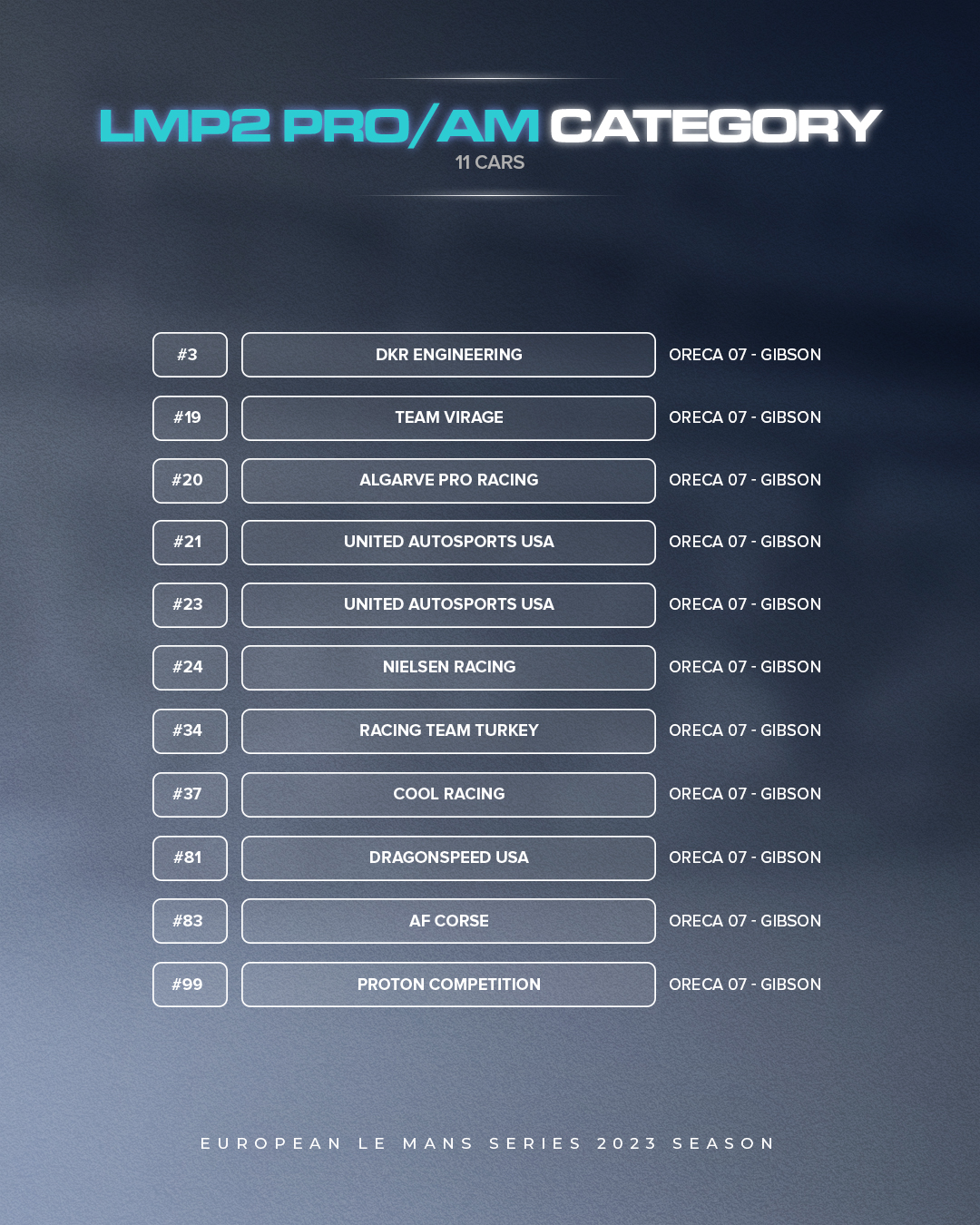 LMGTE: 12 Cars for LMGTE
A total of 12 cars will take part in the 2023 ELMS, with 5 Ferrari 488 GTE EVO, 4 Porsche 911 RSR-19 and 3 Aston Martin Vantage AMRs.
Reigning champions Proton Competition will run three Porsche 911s in addition to their LMP2 entry, with 2022 drivers' champion Christian Ried in the #77. Michael Fassbender will be joined in the #93 Porsche by former FIA WEC LMGTE Pro Champion Richard Lietz and Estonia's Martin Rump for the Hollywood actor's fourth season in the European Le Mans Series. 2021 Team Champions Iron Lynx will run one car in 2023, with the Italian team switching from Ferrari to Porsche.
2015 ELMS LMGTE Champions Formula Racing will rejoin the ELMS, with father and son duo Johnny and Conrad Laursen in the Ferrari 488. Spirit of Race, AF Corse, Kessel Racing and JMW Motorsport all return to the ELMS grid once again, with a single Ferrari 488 entry for each team.
2022 Michelin Le Mans Cup GT3 Champions GMB Motorsport join the ELMS with a single Aston Martin Vantage, the Danes looking to get to grips with the car before their debut at the 24 Hours of Le Mans in June. Kasper H Jensen, Gustav Birch and Jens Moller will complete the driver line up.
TF Sport will run the final two Aston Martin Vantages, with an all-French line up in the #72 Vantage and an all-British crew in the #95 car.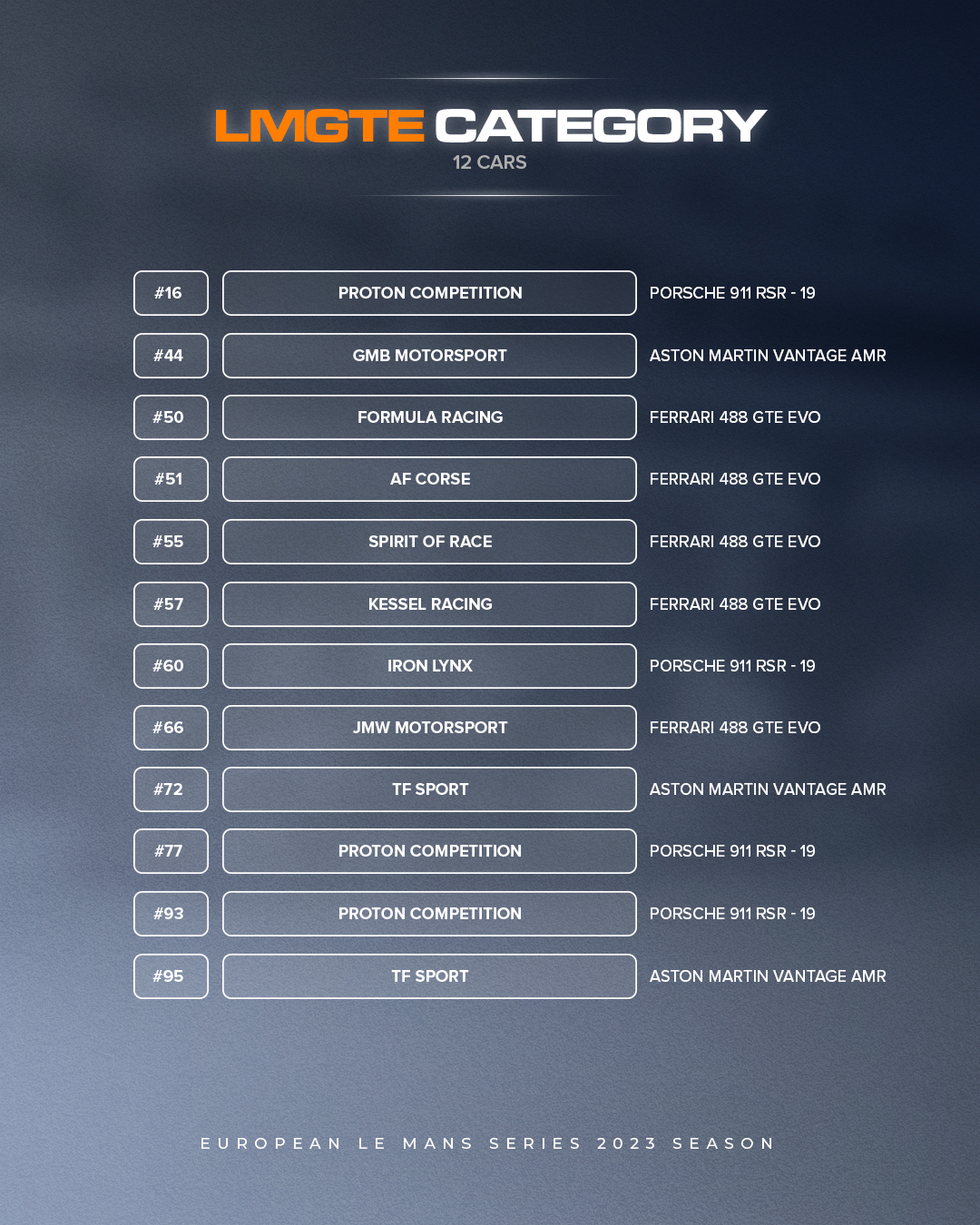 LMP3: The Promise of Top Class Action Yet Again
The LMP3 category will feature 12 cars with 10 Ligiers and 2 Duqueines on the grid this season.
Reigning champions Cool Racing will field just one P3 entry alongside their two LMP2s, with the #17 Ligier featuring Adrien Chila, Marcos Siebert and Alejandro Garcia. Their championship rivals last season Inter Europol Competition will run a Ligier for Kai Askey, Sebastien Alvarez and Miguel Cristovao.
Former champions DKR Engineering will run one of the two Duqueines for Alexander Bukhantsov, James Winslow and Pedro Perino, with WTM by Rinaldi Racing running the other for Torsten Kratz, Leo Weiss and Nicolas Varrone.
2022 MLMC LMP3 Champions Racing Spirit of Leman will enter a single Ligier for Jacques Wolff, Jean-Ludovic Foubert and Antoine Doquin. French team Ultimate rejoin the ELMS in LMP3, with brothers Matthieu and Jean-Baptiste Lahaye at the wheel of a Ligier.
Former Champions Eurointernational and RLR MSport will both field a two car effort, while Nielsen Racing and Team Virage will each run a Ligier in a single car entry.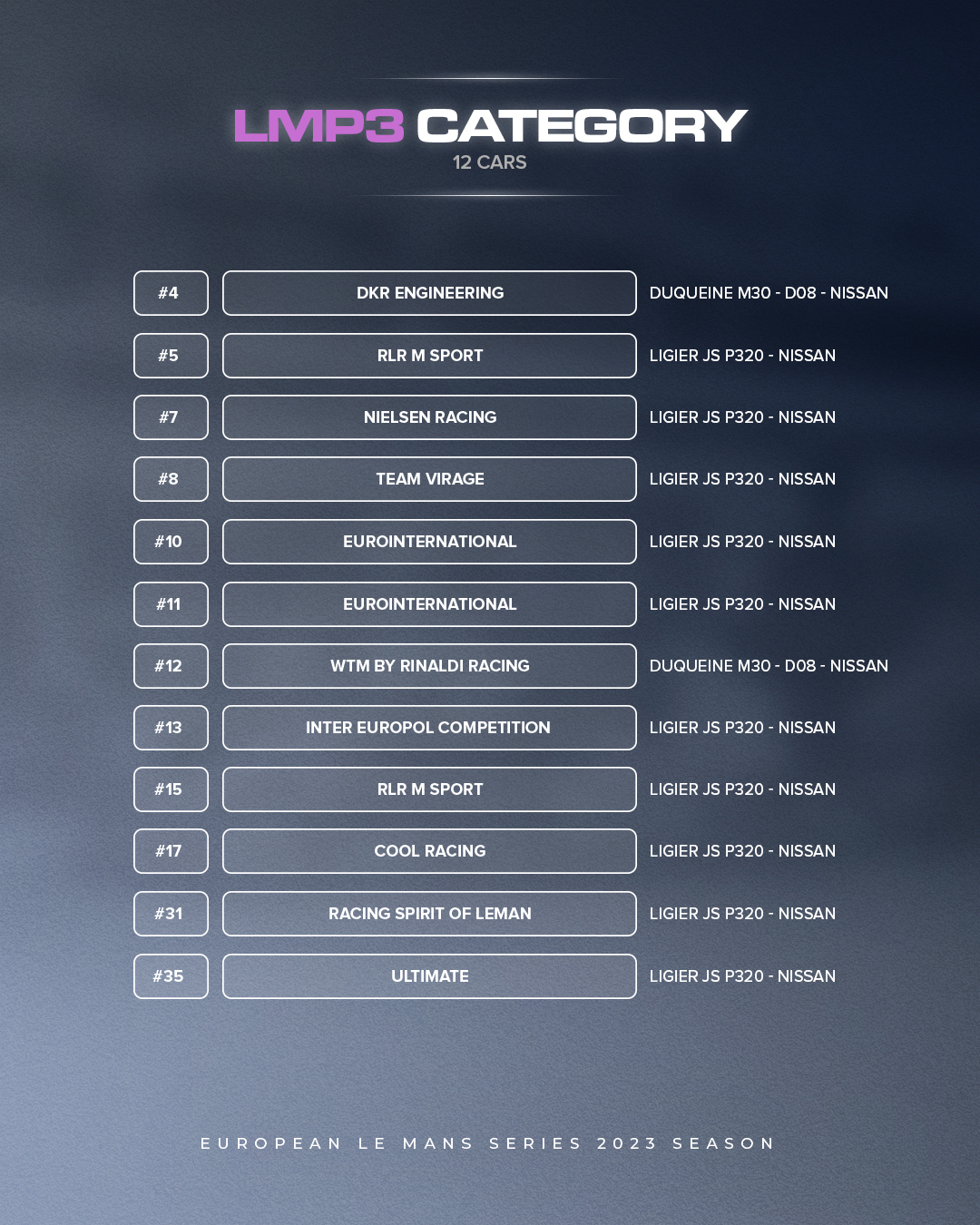 Frédéric Lequien, Le Mans Endurance Management (LMEM) CEO:
"It is wonderful to see so many familiar teams and drivers joining the grid for the 2023 season, while at the same time I extend a welcome to the teams and driver who will make their ELMS debut in Barcelona. The fact that for another year the grid has reached the maximum of 42 cars clearly shows the ELMS offers the competitors what they want, a combination of great circuits, a large grid offering plenty of top-class opposition and a coveted title to win. The LMP2 category is looking very strong for the upcoming season with 18 cars, including 11 Pro/Am entries, two world champions and some of the top racing drivers from around the world. We are pleased to see LMP2 clearly established as the premier class in European endurance racing. We are looking forward to the first race in Barcelona in April when we will see who the main contenders will be for this year's titles of ELMS Champions."
Pierre Fillon, Automobile Club de l'Ouest (ACO) President:
"European Le Mans Series spectators will be able to admire a record field! With 42 cars on the grid, this season is set to yield excellent racing. Year after year, this series continues to attract top-notch entries. See you on 23 April in Barcelona for the start of a historic season!"
CLICK HERE to discover the 2023 European Le Mans Series full season Entry List.