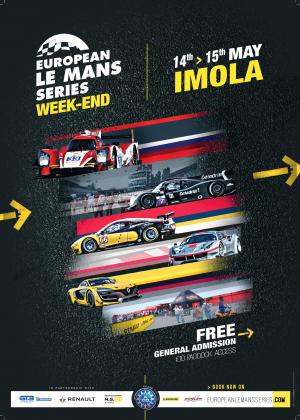 13/05/2016 - 15/05/2016
ELMS - 4 Hours of Imola 2016
For the fourth consecutive year, the European Le Mans Series will return to the famous Imola circuit, renamed as Autodromo Enzo & Dino Ferrari after the death in 1988 of the 'Commendatore'.
Known for its very technical layout, which is difficult to conquer, its twists and turns require a superior level of driving. The Autodromo Enzo & Dino Ferrari is one of the few European tracks where cars circulate anticlockwise.
The F1 San Marino Grand Prix took place there from 1981 to 2006 but there have been many fantastic endurance races, notably those between 250km to 1000km in distance, from three to six hours. One Le Mans Series race, the 6 Hours of Imola, was held as part of the Intercontinental Le Mans Cup (ILMC) in 2011. In 2013, endurance racing returned to the Italian track and the new format proved to be a great success for the venue. In 2014 the race looked to be in the hands of NewBlood by Morand Racing only for them to slow several laps before the finish and for victory to go to JOTA Sport. In 2015, the second race of the season saw the brand new ORECA 05 secure its very first international race win thanks to French team Thiriet by TDS Racing, ahead of the ORECA 03R of Murphy Prototypes and the JOTA Sport Gibson 015S.
European Le Mans Series Results 2015
LMP2: Thiriet by TDS Racing - ORECA 05 Nissan n°46 - Thiriet / Badey / Gommendy
LMP3: University of Bolton - Ginetta Nissan n°7 - Garofall / Dons
LMGTE: AT Racing - Ferrari F458 Italia n°56 - Talkanitsa / Talkanitsa Jr. / Pier Guidi
GTC: AF Corse - Ferrari F458 Italia GT3 n°62 - Mastronardi / Castellacci / Hall
European Le Mans Series Results 2014 :
LMP2: JOTA Sport – No. 38 Zytek SN Z11 – Albuquerque/Tincknell/Dolan
LMGTE: SMP Racing – No. 72 Ferrari 458 Italia – Zlobin/Bertolini/Shaitar
GTC: Formula Racing – No. 60 Ferrari 458 Italia – Laursen/ Mac
European Le Mans Series results 2013:
LMP2: Thiriet by TDS Racing – No.1 ORECA 03-Nissan – Thiriet/Beche
LMGTE: Ram Racing – No.52 Ferrari F458 Italia – Mowlem/Griffin
LMPC: Team Endurance Challenge – No.49 FLM ORECA 09 – Chatin/Hirsch
GTC: SMP Racing – No.69 Ferrari F458 Italia GT3 – Babini/Shaitar/Ladygin
Sessions
| Pos | Team | Car number | Car | Category | Laps | Best lap | Av. Speed |
| --- | --- | --- | --- | --- | --- | --- | --- |
| 1 | Panis Barthez Competition | 23 | LIGIER JS P2 - Nissan | LMP2 | 42 | 1:34.435 | 187.1 |
| 2 | EURASIA MOTORSPORT | 33 | Oreca 05 - Nissan | LMP2 | 43 | 1:35.240 | 185.6 |
| 3 | Thiriet By Tds Racing | 46 | Oreca 05 - Nissan | LMP2 | 28 | 1:35.586 | 184.9 |
| 4 | Murphy Prototypes | 48 | Oreca 03R - Nissan | LMP2 | 39 | 1:35.865 | 184.3 |
| 5 | Krohn Racing | 40 | LIGIER JS P2 - Nissan | LMP2 | 37 | 1:35.912 | 184.3 |
| 6 | G-Drive Racing | 38 | Gibson 015S - Nissan | LMP2 | 35 | 1:36.032 | 184.0 |
| 7 | Algarve Pro Racing | 25 | LIGIER JS P2 - Nissan | LMP2 | 41 | 1:36.066 | 184.0 |
| 8 | DragonSpeed | 21 | Oreca 05 - Nissan | LMP2 | 39 | 1:36.264 | 183.6 |
| 9 | SMP Racing | 32 | BR 01- Nissan | LMP2 | 42 | 1:36.524 | 183.1 |
| 10 | SO24 ! BY LOMBARD RACING | 22 | LIGIER JS P2 - Judd | LMP2 | 32 | 1:36.927 | 182.3 |
| 11 | Greaves Motorsport | 41 | LIGIER JS P2 - Nissan | LMP2 | 36 | 1:36.969 | 182.2 |
| 12 | Pegasus Racing | 29 | Morgan - Nissan | LMP2 | 38 | 1:37.089 | 182.0 |
| 13 | RACE PERFORMANCE | 34 | Oreca 03R - Judd | LMP2 | 34 | 1:38.069 | 180.2 |
| 14 | EUROINTERNATIONAL | 11 | LIGIER JS P3 - Nissan | LMP3 | 13 | 1:40.099 | 176.5 |
| 15 | UNITED AUTOSPORTS | 2 | LIGIER JS P3 - Nissan | LMP3 | 43 | 1:40.168 | 176.4 |
| 16 | DUQUEINE ENGINEERING | 19 | LIGIER JS P3 - Nissan | LMP3 | 43 | 1:40.271 | 176.2 |
| 17 | IDEC SPORT RACING | 28 | LIGIER JS P2 - Judd | LMP2 | 20 | 1:40.363 | 176.1 |
| 18 | EUROINTERNATIONAL | 12 | LIGIER JS P3 - Nissan | LMP3 | 41 | 1:40.986 | 175.0 |
| 19 | M.RACING - YMR | 18 | LIGIER JS P3 - Nissan | LMP3 | 33 | 1:41.118 | 174.8 |
| 20 | GRAFF | 10 | LIGIER JS P3 - Nissan | LMP3 | 39 | 1:41.232 | 174.6 |
| 21 | 360 Racing | 6 | LIGIER JS P3 - Nissan | LMP3 | 38 | 1:41.332 | 174.4 |
| 22 | Panis Barthez Competition | 16 | LIGIER JS P3 - Nissan | LMP3 | 43 | 1:41.440 | 174.2 |
| 23 | Villorba Corse | 7 | LIGIER JS P3 - Nissan | LMP3 | 40 | 1:41.842 | 173.5 |
| 24 | ULTIMATE | 17 | LIGIER JS P3 - Nissan | LMP3 | 37 | 1:42.216 | 172.9 |
| 25 | JMW Motorsport | 66 | Ferrari F458 Italia | LMGTE | 41 | 1:42.262 | 172.8 |
| 26 | Inter Europol Competition | 13 | LIGIER JS P3 - Nissan | LMP3 | 35 | 1:42.366 | 172.6 |
| 27 | GRAFF | 9 | LIGIER JS P3 - Nissan | LMP3 | 39 | 1:42.406 | 172.6 |
| 28 | DUQUEINE ENGINEERING | 20 | LIGIER JS P3 - Nissan | LMP3 | 31 | 1:42.483 | 172.4 |
| 29 | Formula Racing | 60 | Ferrari F458 Italia | LMGTE | 38 | 1:42.578 | 172.3 |
| 30 | Oak Racing | 24 | LIGIER JS P3 - Nissan | LMP3 | 35 | 1:42.664 | 172.1 |
| 31 | Proton Competition | 88 | Porsche 911 RSR 991 | LMGTE | 34 | 1:42.772 | 172.0 |
| 32 | BY SPEED FACTORY | 5 | LIGIER JS P3 - Nissan | LMP3 | 40 | 1:42.817 | 171.9 |
| 33 | AF Corse | 51 | Ferrari F458 Italia | LMGTE | 36 | 1:42.868 | 171.8 |
| 34 | AT Racing | 56 | Ferrari F458 Italia | LMGTE | 37 | 1:43.015 | 171.6 |
| 35 | RACE PERFORMANCE | 8 | LIGIER JS P3 - Nissan | LMP3 | 40 | 1:43.258 | 171.1 |
| 36 | Proton Competition | 77 | Porsche 911 RSR 991 | LMGTE | 35 | 1:43.389 | 170.9 |
| 37 | AF Corse | 55 | Ferrari F458 Italia | LMGTE | 35 | 1:43.475 | 170.8 |
| 38 | RLR MSPORT | 15 | LIGIER JS P3 - Nissan | LMP3 | 30 | 1:43.487 | 170.8 |
| 39 | Aston Martin Racing | 99 | Aston Martin V8 Vantage | LMGTE | 40 | 1:43.902 | 170.1 |
| 40 | Oak Racing | 4 | LIGIER JS P3 - Nissan | LMP3 | 35 | 1:45.374 | 167.7 |
| 41 | MurphyP3-3Dimensional.com | 14 | Ginetta - Nissan | LMP3 | 27 | 1:45.498 | 167.5 |
| 42 | UNITED AUTOSPORTS | 3 | LIGIER JS P3 - Nissan | LMP3 | 23 | 1:45.569 | 167.4 |
| Pos | Team | Car number | Car | Category | Laps | Best lap | Av. Speed |
| --- | --- | --- | --- | --- | --- | --- | --- |
| 1 | Panis Barthez Competition | 23 | LIGIER JS P2 - Nissan | LMP2 | 35 | 1:33.881 | 188.2 |
| 2 | Krohn Racing | 40 | LIGIER JS P2 - Nissan | LMP2 | 39 | 1:34.121 | 187.8 |
| 3 | DragonSpeed | 21 | Oreca 05 - Nissan | LMP2 | 39 | 1:34.485 | 187.0 |
| 4 | Greaves Motorsport | 41 | LIGIER JS P2 - Nissan | LMP2 | 38 | 1:34.654 | 186.7 |
| 5 | EURASIA MOTORSPORT | 33 | Oreca 05 - Nissan | LMP2 | 41 | 1:34.971 | 186.1 |
| 6 | Thiriet By Tds Racing | 46 | Oreca 05 - Nissan | LMP2 | 35 | 1:34.985 | 186.1 |
| 7 | Murphy Prototypes | 48 | Oreca 03R - Nissan | LMP2 | 38 | 1:35.317 | 185.4 |
| 8 | G-Drive Racing | 38 | Gibson 015S - Nissan | LMP2 | 43 | 1:35.429 | 185.2 |
| 9 | SO24 ! BY LOMBARD RACING | 22 | LIGIER JS P2 - Judd | LMP2 | 42 | 1:36.098 | 183.9 |
| 10 | SMP Racing | 32 | BR 01- Nissan | LMP2 | 37 | 1:36.648 | 182.9 |
| 11 | RACE PERFORMANCE | 34 | Oreca 03R - Judd | LMP2 | 39 | 1:36.811 | 182.5 |
| 12 | Algarve Pro Racing | 25 | LIGIER JS P2 - Nissan | LMP2 | 33 | 1:37.173 | 181.9 |
| 13 | Pegasus Racing | 29 | Morgan - Nissan | LMP2 | 29 | 1:37.494 | 181.3 |
| 14 | IDEC SPORT RACING | 28 | LIGIER JS P2 - Judd | LMP2 | 36 | 1:38.594 | 179.2 |
| 15 | Villorba Corse | 7 | LIGIER JS P3 - Nissan | LMP3 | 37 | 1:40.349 | 176.1 |
| 16 | DUQUEINE ENGINEERING | 19 | LIGIER JS P3 - Nissan | LMP3 | 33 | 1:40.769 | 175.4 |
| 17 | Panis Barthez Competition | 16 | LIGIER JS P3 - Nissan | LMP3 | 42 | 1:40.823 | 175.3 |
| 18 | GRAFF | 10 | LIGIER JS P3 - Nissan | LMP3 | 43 | 1:40.832 | 175.3 |
| 19 | UNITED AUTOSPORTS | 3 | LIGIER JS P3 - Nissan | LMP3 | 19 | 1:40.843 | 175.2 |
| 20 | EUROINTERNATIONAL | 11 | LIGIER JS P3 - Nissan | LMP3 | 39 | 1:40.895 | 175.2 |
| 21 | 360 Racing | 6 | LIGIER JS P3 - Nissan | LMP3 | 40 | 1:40.977 | 175.0 |
| 22 | GRAFF | 9 | LIGIER JS P3 - Nissan | LMP3 | 42 | 1:41.263 | 174.5 |
| 23 | EUROINTERNATIONAL | 12 | LIGIER JS P3 - Nissan | LMP3 | 39 | 1:41.500 | 174.1 |
| 24 | Inter Europol Competition | 13 | LIGIER JS P3 - Nissan | LMP3 | 31 | 1:41.573 | 174.0 |
| 25 | M.RACING - YMR | 18 | LIGIER JS P3 - Nissan | LMP3 | 37 | 1:41.627 | 173.9 |
| 26 | ULTIMATE | 17 | LIGIER JS P3 - Nissan | LMP3 | 39 | 1:41.709 | 173.8 |
| 27 | UNITED AUTOSPORTS | 2 | LIGIER JS P3 - Nissan | LMP3 | 32 | 1:41.735 | 173.7 |
| 28 | JMW Motorsport | 66 | Ferrari F458 Italia | LMGTE | 40 | 1:41.870 | 173.5 |
| 29 | Proton Competition | 88 | Porsche 911 RSR 991 | LMGTE | 34 | 1:42.044 | 173.2 |
| 30 | Oak Racing | 24 | LIGIER JS P3 - Nissan | LMP3 | 38 | 1:42.174 | 173.0 |
| 31 | RACE PERFORMANCE | 8 | LIGIER JS P3 - Nissan | LMP3 | 39 | 1:42.241 | 172.9 |
| 32 | AF Corse | 55 | Ferrari F458 Italia | LMGTE | 36 | 1:42.521 | 172.4 |
| 33 | AF Corse | 51 | Ferrari F458 Italia | LMGTE | 35 | 1:42.597 | 172.3 |
| 34 | Proton Competition | 77 | Porsche 911 RSR 991 | LMGTE | 34 | 1:42.740 | 172.0 |
| 35 | DUQUEINE ENGINEERING | 20 | LIGIER JS P3 - Nissan | LMP3 | 30 | 1:42.770 | 172.0 |
| 36 | Aston Martin Racing | 99 | Aston Martin V8 Vantage | LMGTE | 38 | 1:42.858 | 171.8 |
| 37 | BY SPEED FACTORY | 5 | LIGIER JS P3 - Nissan | LMP3 | 36 | 1:42.880 | 171.8 |
| 38 | AT Racing | 56 | Ferrari F458 Italia | LMGTE | 31 | 1:42.935 | 171.7 |
| 39 | RLR MSPORT | 15 | LIGIER JS P3 - Nissan | LMP3 | 34 | 1:43.227 | 171.2 |
| 40 | MurphyP3-3Dimensional.com | 14 | LIGIER JS P3 - Nissan | LMP3 | 33 | 1:43.340 | 171.0 |
| 41 | Formula Racing | 60 | Ferrari F458 Italia | LMGTE | 17 | 1:43.857 | 170.2 |
| 42 | Oak Racing | 4 | LIGIER JS P3 - Nissan | LMP3 | 37 | 1:44.493 | 169.1 |
| Pos | Team | Car number | Car | Category | Laps | Best lap | Av. Speed |
| --- | --- | --- | --- | --- | --- | --- | --- |
| 1 | DragonSpeed | 21 | Oreca 05 - Nissan | LMP2 | 6 | 1:33.780 | 188.4 |
| 2 | Thiriet By Tds Racing | 46 | Oreca 05 - Nissan | LMP2 | 5 | 1:33.815 | 188.4 |
| 3 | Panis Barthez Competition | 23 | LIGIER JS P2 - Nissan | LMP2 | 6 | 1:33.815 | 188.4 |
| 4 | Krohn Racing | 40 | LIGIER JS P2 - Nissan | LMP2 | 6 | 1:33.824 | 188.4 |
| 5 | G-Drive Racing | 38 | Gibson 015S - Nissan | LMP2 | 6 | 1:34.024 | 188.0 |
| 6 | EURASIA MOTORSPORT | 33 | Oreca 05 - Nissan | LMP2 | 6 | 1:34.070 | 187.9 |
| 7 | Greaves Motorsport | 41 | LIGIER JS P2 - Nissan | LMP2 | 5 | 1:34.136 | 187.7 |
| 8 | SO24 ! BY LOMBARD RACING | 22 | LIGIER JS P2 - Judd | LMP2 | 7 | 1:34.682 | 186.7 |
| 9 | Pegasus Racing | 29 | Morgan - Nissan | LMP2 | 6 | 1:35.014 | 186.0 |
| 10 | Algarve Pro Racing | 25 | LIGIER JS P2 - Nissan | LMP2 | 6 | 1:35.068 | 185.9 |
| 11 | Murphy Prototypes | 48 | Oreca 03R - Nissan | LMP2 | 5 | 1:35.151 | 185.7 |
| 12 | SMP Racing | 32 | BR 01- Nissan | LMP2 | 5 | 1:35.492 | 185.1 |
| 13 | IDEC SPORT RACING | 28 | LIGIER JS P2 - Judd | LMP2 | 6 | 1:35.854 | 184.4 |
| 14 | RACE PERFORMANCE | 34 | Oreca 03R - Judd | LMP2 | 6 | 1:35.954 | 184.2 |
| 15 | UNITED AUTOSPORTS | 3 | LIGIER JS P3 - Nissan | LMP3 | 5 | 1:39.256 | 178.0 |
| 16 | EUROINTERNATIONAL | 11 | LIGIER JS P3 - Nissan | LMP3 | 7 | 1:39.401 | 177.8 |
| 17 | UNITED AUTOSPORTS | 2 | LIGIER JS P3 - Nissan | LMP3 | 6 | 1:39.623 | 177.4 |
| 18 | GRAFF | 10 | LIGIER JS P3 - Nissan | LMP3 | 6 | 1:39.934 | 176.8 |
| 19 | DUQUEINE ENGINEERING | 19 | LIGIER JS P3 - Nissan | LMP3 | 6 | 1:40.049 | 176.6 |
| 20 | ULTIMATE | 17 | LIGIER JS P3 - Nissan | LMP3 | 7 | 1:40.303 | 176.2 |
| 21 | Panis Barthez Competition | 16 | LIGIER JS P3 - Nissan | LMP3 | 7 | 1:40.333 | 176.1 |
| 22 | EUROINTERNATIONAL | 12 | LIGIER JS P3 - Nissan | LMP3 | 6 | 1:40.444 | 175.9 |
| 23 | Villorba Corse | 7 | LIGIER JS P3 - Nissan | LMP3 | 6 | 1:40.484 | 175.9 |
| 24 | GRAFF | 9 | LIGIER JS P3 - Nissan | LMP3 | 6 | 1:40.594 | 175.7 |
| 25 | 360 Racing | 6 | LIGIER JS P3 - Nissan | LMP3 | 6 | 1:40.643 | 175.6 |
| 26 | BY SPEED FACTORY | 5 | LIGIER JS P3 - Nissan | LMP3 | 6 | 1:40.821 | 175.3 |
| 27 | M.RACING - YMR | 18 | LIGIER JS P3 - Nissan | LMP3 | 6 | 1:40.895 | 175.2 |
| 28 | Oak Racing | 24 | LIGIER JS P3 - Nissan | LMP3 | 6 | 1:41.062 | 174.9 |
| 29 | RACE PERFORMANCE | 8 | LIGIER JS P3 - Nissan | LMP3 | 6 | 1:41.229 | 174.6 |
| 30 | Proton Competition | 77 | Porsche 911 RSR 991 | LMGTE | 5 | 1:41.269 | 174.5 |
| 31 | JMW Motorsport | 66 | Ferrari F458 Italia | LMGTE | 5 | 1:41.310 | 174.4 |
| 32 | Proton Competition | 88 | Porsche 911 RSR 991 | LMGTE | 5 | 1:41.397 | 174.3 |
| 33 | AT Racing | 56 | Ferrari F458 Italia | LMGTE | 6 | 1:41.517 | 174.1 |
| 34 | DUQUEINE ENGINEERING | 20 | LIGIER JS P3 - Nissan | LMP3 | 6 | 1:41.522 | 174.1 |
| 35 | Inter Europol Competition | 13 | LIGIER JS P3 - Nissan | LMP3 | 7 | 1:41.653 | 173.9 |
| 36 | AF Corse | 55 | Ferrari F458 Italia | LMGTE | 6 | 1:41.736 | 173.7 |
| 37 | AF Corse | 51 | Ferrari F458 Italia | LMGTE | 6 | 1:41.776 | 173.6 |
| 38 | RLR MSPORT | 15 | LIGIER JS P3 - Nissan | LMP3 | 7 | 1:42.158 | 173.0 |
| 39 | Oak Racing | 4 | LIGIER JS P3 - Nissan | LMP3 | 7 | 1:43.178 | 171.3 |
| 40 | MurphyP3-3Dimensional.com | 14 | LIGIER JS P3 - Nissan | LMP3 | 5 | 1:44.534 | 169.1 |
| 41 | Aston Martin Racing | 99 | Aston Martin V8 Vantage | LMGTE | 5 | 1:44.944 | 168.4 |
| Pos | Team | Car number | Car | Category | Laps | Best lap | Av. Speed |
| --- | --- | --- | --- | --- | --- | --- | --- |
| 1 | Thiriet By Tds Racing | 46 | Oreca 05 - Nissan | LMP2 | 121 | 1'35.403 | 185.2 |
| 2 | G-Drive Racing | 38 | Gibson 015S - Nissan | LMP2 | 121 | 1'35.370 | 185.3 |
| 3 | DragonSpeed | 21 | Oreca 05 - Nissan | LMP2 | 121 | 1'34.799 | 186.4 |
| 4 | SMP Racing | 32 | BR 01- Nissan | LMP2 | 121 | 1'36.444 | 183.2 |
| 5 | Eurasia Motorsport | 33 | Oreca 05 - Nissan | LMP2 | 121 | 1'35.083 | 185.9 |
| 6 | Krohn Racing | 40 | LIGIER JS P2 - Nissan | LMP2 | 120 | 1'34.807 | 186.4 |
| 7 | Panis Barthez Competition | 23 | LIGIER JS P2 - Nissan | LMP2 | 120 | 1'35.071 | 185.9 |
| 8 | Greaves Motorsport | 41 | LIGIER JS P2 - Nissan | LMP2 | 118 | 1'35.557 | 184.9 |
| 9 | Race Performance | 34 | Oreca 03R - Judd | LMP2 | 118 | 1'37.085 | 182.0 |
| 10 | Murphy Prototypes | 48 | Oreca 03R - Nissan | LMP2 | 118 | 1'36.069 | 184.0 |
| 11 | SO24 ! By Lombard Racing | 22 | LIGIER JS P2 - Judd | LMP2 | 117 | 1'37.339 | 181.6 |
| 12 | Pegasus Racing | 29 | Morgan - Nissan | LMP2 | 116 | 1'35.705 | 184.7 |
| 13 | Proton Competition | 77 | Porsche 911 RSR 991 | LMGTE | 116 | 1'42.462 | 172.5 |
| 14 | United Autosports | 2 | LIGIER JS P3 - Nissan | LMP3 | 115 | 1'40.105 | 176.5 |
| 15 | Eurointernational | 11 | LIGIER JS P3 - Nissan | LMP3 | 115 | 1'40.576 | 175.7 |
| 16 | JMW Motorsport | 66 | Ferrari F458 Italia | LMGTE | 115 | 1'42.308 | 172.7 |
| 17 | Panis Barthez Competition | 16 | LIGIER JS P3 - Nissan | LMP3 | 115 | 1'41.227 | 174.6 |
| 18 | Duqueine Engineering | 19 | LIGIER JS P3 - Nissan | LMP3 | 115 | 1'40.019 | 176.7 |
| 19 | M.Racing - YMR | 18 | LIGIER JS P3 - Nissan | LMP3 | 115 | 1'41.065 | 174.9 |
| 20 | RLR Msport | 15 | LIGIER JS P3 - Nissan | LMP3 | 114 | 1'42.603 | 172.2 |
| 21 | United Autosports | 3 | LIGIER JS P3 - Nissan | LMP3 | 114 | 1'40.414 | 176.0 |
| 22 | AT Racing | 56 | Ferrari F458 Italia | LMGTE | 114 | 1'43.439 | 170.8 |
| 23 | Proton Competition | 88 | Porsche 911 RSR 991 | LMGTE | 114 | 1'42.464 | 172.5 |
| 24 | Aston Martin Racing | 99 | Aston Martin V8 Vantage | LMGTE | 114 | 1'41.876 | 173.5 |
| 25 | Eurointernational | 12 | LIGIER JS P3 - Nissan | LMP3 | 114 | 1'41.259 | 174.5 |
| 26 | AF Corse | 55 | Ferrari F458 Italia | LMGTE | 114 | 1'42.950 | 171.7 |
| 27 | 360 Racing | 6 | LIGIER JS P3 - Nissan | LMP3 | 114 | 1'42.452 | 172.5 |
| 28 | AF Corse | 51 | Ferrari F458 Italia | LMGTE | 113 | 1'42.835 | 171.9 |
| 29 | Ultimate | 17 | LIGIER JS P3 - Nissan | LMP3 | 113 | 1'41.056 | 174.9 |
| 30 | Duqueine Engineering | 20 | LIGIER JS P3 - Nissan | LMP3 | 113 | 1'42.050 | 173.2 |
| 31 | MurphyP3-3Dimensional.com | 14 | LIGIER JS P3 - Nissan | LMP3 | 112 | 1'42.877 | 171.8 |
| 32 | Race Performance | 8 | LIGIER JS P3 - Nissan | LMP3 | 110 | 1'42.628 | 172.2 |
| 33 | Oak Racing | 4 | LIGIER JS P3 - Nissan | LMP3 | 109 | 1'44.188 | 169.6 |
| 34 | Inter Europol Competition | 13 | LIGIER JS P3 - Nissan | LMP3 | 105 | 1'41.089 | 174.8 |
| 35 | Villorba Corse | 7 | LIGIER JS P3 - Nissan | LMP3 | 103 | 1'42.147 | 173.0 |
| 36 | Oak Racing | 24 | LIGIER JS P3 - Nissan | LMP3 | 94 | 1'42.696 | 172.1 |
| 37 | Graff | 10 | LIGIER JS P3 - Nissan | LMP3 | 93 | 1'42.443 | 172.5 |
| 38 | Algarve Pro Racing | 25 | LIGIER JS P2 - Nissan | LMP2 | 90 | 1'37.942 | 180.4 |
| 39 | Idec Sport Racing | 28 | LIGIER JS P2 - Judd | LMP2 | 80 | 1'36.914 | 182.4 |
| 40 | By Speed Factory | 5 | LIGIER JS P3 - Nissan | LMP3 | 67 | 1'43.238 | 171.2 |
| 41 | Graff | 9 | LIGIER JS P3 - Nissan | LMP3 | 111 | 1'42.412 | 172.6 |