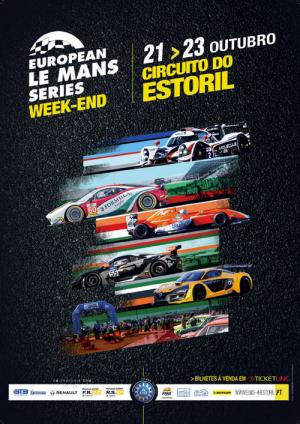 21/10/2016 - 23/10/2016
ELMS - 4 Hours of Estoril 2016
Located near the Atlantic coast about thirty kilometres from Lisbon, the Estoril circuit was created in 1972 and has undergone numerous transformations since. It offers a unique configuration: a long straight followed by a series of highly technical sequences. It requires a versatile car, with a good top speed and agility through the series of fast bends.
In 1984, the Estoril circuit was also the scene of a great moment in the history of motor sport: Niki Lauda came back from two years in retirement and recaptured the Formula 1 World Championship crown, beating his McLaren team-mate Alain Prost by a half-point.
The first sports prototype and GT endurance race at Estoril was held on the circuit's opening day in 1972, but it would take until 1977 before the first true endurance event took place – the ACP Grand Prix which formed part of the World Sports Prototype Championship. The Le Mans Series' 1000 km of Estoril followed in 2001 and then the LMS 6-hour race in 2011.
The Estoril Circuit was the venue for the final round of the 2014 ELMS season. It was a fantastic finale which saw a fifth different team climb onto the highest step of the podium (Sébastien Loeb Racing), rounding out a high quality season in front of 20,000 spectators.
For the second time the ELMS season finale took place on the superb Estoril race track in 2015. But the race was hard on the drivers and the vehicles. Despite heavy rain and wind, thousands of spectators came to witnesses a thrilling race and to see Thiriet by TDS Racing win its second race in the season, ahead of both Gibsons 015S of Greaves Motorsports and JOTA Sport. The Belgian BMW Team Marc VDS won the LMGTE class in the team's final race in four wheel motorsport and it was also the debut win for Nissan GT Academy star Gaétan Paletou in LMP3.
Estoril also saw the crowning of the LMP2, LMGTE and GTC champions with Greaves Motorsport, Formula Racing and TDS Racing all securing the 2015 European Le Mans Series titles.
European Le Mans Series Results 2015
LMP2: Thiriet by TDS Racing - ORECA 05 Nissan n°46 - Thiriet / Badey / Lapierre
LMP3: Team LNT - Ginetta Nissan n°2 - Paletou / Simpson
LMGTE: BMW Team MarcVDS -BMW Z4 n°52 Priaulx / Hassid / Krohn
GTC: AF Corse - Ferrari F458 Italia GT3 n°63 - Roda / Melnikov / Cioci
European Le Mans Results (2014):
LMP2: Sebastien Loeb Racing – No.24 ORECA 03R Nissan – Capillaire/Eriksson
LMGTE: SMP Racing – No72 Ferrari 458 Italia – Zlobin/Bertolini/Shaitar
GTC: BMW Sport Trophy Marc VDS – No.87 BMW Z4 GT3 – Leinders/Paltalla/Hassid
Sessions
| Pos | Team | Car number | Car | Category | Laps | Best lap | Av. Speed |
| --- | --- | --- | --- | --- | --- | --- | --- |
| 1 | DragonSpeed | 21 | Oreca 05 - Nissan | LMP2 | 14 | 1:36.294 | 156.3 |
| 2 | Panis Barthez Competition | 23 | LIGIER JS P2 - Nissan | LMP2 | 14 | 1:36.454 | 156.1 |
| 3 | M.Racing - YMR | 18 | LIGIER JS P3 - Nissan | LMP3 | 16 | 1:37.346 | 154.7 |
| 4 | United Autosports | 2 | LIGIER JS P3 - Nissan | LMP3 | 16 | 1:37.952 | 153.7 |
| 5 | Idec Sport Racing | 28 | LIGIER JS P2 - Judd | LMP2 | 15 | 1:38.013 | 153.6 |
| 6 | Graff | 9 | LIGIER JS P3 - Nissan | LMP3 | 17 | 1:38.928 | 152.2 |
| 7 | Panis Barthez Competition | 16 | LIGIER JS P3 - Nissan | LMP3 | 16 | 1:39.116 | 151.9 |
| 8 | Villorba Corse | 7 | LIGIER JS P3 - Nissan | LMP3 | 16 | 1:39.554 | 151.2 |
| 9 | Graff | 10 | LIGIER JS P3 - Nissan | LMP3 | 16 | 1:39.588 | 151.2 |
| 10 | 360 Racing | 6 | LIGIER JS P3 - Nissan | LMP3 | 18 | 1:39.727 | 151.0 |
| 11 | United Autosports | 3 | LIGIER JS P3 - Nissan | LMP3 | 16 | 1:39.836 | 150.8 |
| 12 | Ultimate | 17 | LIGIER JS P3 - Nissan | LMP3 | 17 | 1:39.916 | 150.7 |
| 13 | Oak Racing | 24 | LIGIER JS P3 - Nissan | LMP3 | 15 | 1:40.352 | 150.0 |
| 14 | Inter Europol Competition | 13 | LIGIER JS P3 - Nissan | LMP3 | 16 | 1:40.427 | 149.9 |
| 15 | Duqueine Engineering | 19 | LIGIER JS P3 - Nissan | LMP3 | 15 | 1:41.060 | 149.0 |
| 16 | Eurointernational | 12 | LIGIER JS P3 - Nissan | LMP3 | 17 | 1:41.248 | 148.7 |
| 17 | Formula Racing | 60 | Ferrari F458 Italia | LMGTE | 16 | 1:41.462 | 148.4 |
| 18 | Proton Competition | 88 | Porsche 911 RSR 991 | LMGTE | 15 | 1:42.140 | 147.4 |
| 19 | AT Racing | 56 | Ferrari F458 Italia | LMGTE | 16 | 1:42.253 | 147.2 |
| 20 | Duqueine Engineering | 20 | LIGIER JS P3 - Nissan | LMP3 | 14 | 1:42.350 | 147.1 |
| 21 | AF Corse | 51 | Ferrari F458 Italia | LMGTE | 15 | 1:42.627 | 146.7 |
| 22 | RLR MSport | 15 | LIGIER JS P3 - Nissan | LMP3 | 14 | 1:42.757 | 146.5 |
| 23 | Race Performance | 8 | LIGIER JS P3 - Nissan | LMP3 | 16 | 1:42.788 | 146.5 |
| 24 | JMW Motorsport | 66 | Ferrari F458 Italia | LMGTE | 14 | 1:42.834 | 146.4 |
| 25 | AF Corse | 55 | Ferrari F458 Italia | LMGTE | 15 | 1:43.070 | 146.1 |
| 26 | Proton Competition | 77 | Porsche 911 RSR 991 | LMGTE | 16 | 1:43.332 | 145.7 |
| 27 | Aston Martin Racing | 99 | Aston Martin V8 Vantage | LMGTE | 17 | 1:43.813 | 145.0 |
| 28 | Eurointernational | 11 | LIGIER JS P3 - Nissan | LMP3 | 14 | 1:44.289 | 144.4 |
| Pos | Team | Car number | Car | Category | Laps | Best lap | Av. Speed |
| --- | --- | --- | --- | --- | --- | --- | --- |
| 1 | Thiriet By Tds Racing | 46 | Oreca 05 - Nissan | LMP2 | 32 | 1:31.637 | 164.3 |
| 2 | Krohn Racing | 40 | LIGIER JS P2 - Nissan | LMP2 | 30 | 1:32.305 | 163.1 |
| 3 | Greaves Motorsport | 41 | LIGIER JS P2 - Nissan | LMP2 | 28 | 1:32.395 | 162.9 |
| 4 | DragonSpeed | 21 | Oreca 05 - Nissan | LMP2 | 28 | 1:32.801 | 162.2 |
| 5 | SMP Racing | 32 | BR 01- Nissan | LMP2 | 27 | 1:32.898 | 162.1 |
| 6 | Eurasia Motorsport | 33 | Oreca 05 - Nissan | LMP2 | 37 | 1:33.721 | 160.6 |
| 7 | G-Drive Racing | 38 | Gibson 015S - Nissan | LMP2 | 25 | 1:34.058 | 160.1 |
| 8 | Panis Barthez Competition | 23 | LIGIER JS P2 - Nissan | LMP2 | 28 | 1:34.143 | 159.9 |
| 9 | Idec Sport Racing | 28 | LIGIER JS P2 - Judd | LMP2 | 32 | 1:35.205 | 158.1 |
| 10 | Pegasus Racing | 29 | Morgan - Nissan | LMP2 | 13 | 1:36.021 | 156.8 |
| 11 | M.Racing - YMR | 18 | LIGIER JS P3 - Nissan | LMP3 | 34 | 1:36.919 | 155.3 |
| 12 | Graff | 10 | LIGIER JS P3 - Nissan | LMP3 | 22 | 1:36.968 | 155.3 |
| 13 | United Autosports | 2 | LIGIER JS P3 - Nissan | LMP3 | 22 | 1:37.517 | 154.4 |
| 14 | Panis Barthez Competition | 16 | LIGIER JS P3 - Nissan | LMP3 | 31 | 1:37.779 | 154.0 |
| 15 | Eurointernational | 11 | LIGIER JS P3 - Nissan | LMP3 | 28 | 1:37.802 | 153.9 |
| 16 | Graff | 9 | LIGIER JS P3 - Nissan | LMP3 | 29 | 1:37.937 | 153.7 |
| 17 | Ultimate | 17 | LIGIER JS P3 - Nissan | LMP3 | 30 | 1:38.124 | 153.4 |
| 18 | Duqueine Engineering | 19 | LIGIER JS P3 - Nissan | LMP3 | 31 | 1:38.160 | 153.4 |
| 19 | Villorba Corse | 7 | LIGIER JS P3 - Nissan | LMP3 | 30 | 1:38.162 | 153.4 |
| 20 | United Autosports | 3 | LIGIER JS P3 - Nissan | LMP3 | 19 | 1:38.341 | 153.1 |
| 21 | 360 Racing | 6 | LIGIER JS P3 - Nissan | LMP3 | 31 | 1:38.571 | 152.7 |
| 22 | Race Performance | 8 | LIGIER JS P3 - Nissan | LMP3 | 34 | 1:39.104 | 151.9 |
| 23 | Inter Europol Competition | 13 | LIGIER JS P3 - Nissan | LMP3 | 29 | 1:39.575 | 151.2 |
| 24 | Duqueine Engineering | 20 | LIGIER JS P3 - Nissan | LMP3 | 25 | 1:39.692 | 151.0 |
| 25 | Eurointernational | 12 | LIGIER JS P3 - Nissan | LMP3 | 28 | 1:39.776 | 150.9 |
| 26 | RLR MSport | 15 | LIGIER JS P3 - Nissan | LMP3 | 31 | 1:39.797 | 150.9 |
| 27 | Proton Competition | 77 | Porsche 911 RSR 991 | LMGTE | 30 | 1:40.165 | 150.3 |
| 28 | AT Racing | 56 | Ferrari F458 Italia | LMGTE | 28 | 1:40.204 | 150.2 |
| 29 | Oak Racing | 24 | LIGIER JS P3 - Nissan | LMP3 | 29 | 1:40.206 | 150.2 |
| 30 | AF Corse | 51 | Ferrari F458 Italia | LMGTE | 26 | 1:40.284 | 150.1 |
| 31 | Aston Martin Racing | 99 | Aston Martin V8 Vantage | LMGTE | 28 | 1:40.311 | 150.1 |
| 32 | AF Corse | 55 | Ferrari F458 Italia | LMGTE | 31 | 1:40.448 | 149.9 |
| 33 | JMW Motorsport | 66 | Ferrari F458 Italia | LMGTE | 31 | 1:40.805 | 149.3 |
| 34 | Oak Racing | 4 | LIGIER JS P3 - Nissan | LMP3 | 23 | 1:41.810 | 147.9 |
| 35 | Proton Competition | 88 | Porsche 911 RSR 991 | LMGTE | 28 | 1:42.658 | 146.7 |
| 36 | Formula Racing | 60 | Ferrari F458 Italia | LMGTE | 28 | 1:43.090 | 146.0 |
| Pos | Team | Car number | Car | Category | Laps | Best lap | Av. Speed |
| --- | --- | --- | --- | --- | --- | --- | --- |
| 1 | DragonSpeed | 21 | Oreca 05 - Nissan | LMP2 | 40 | 1:35.671 | 157.4 |
| 2 | G-Drive Racing | 38 | Gibson 015S - Nissan | LMP2 | 41 | 1:36.341 | 156.3 |
| 3 | Greaves Motorsport | 41 | LIGIER JS P2 - Nissan | LMP2 | 35 | 1:37.942 | 153.7 |
| 4 | Krohn Racing | 40 | LIGIER JS P2 - Nissan | LMP2 | 24 | 1:38.261 | 153.2 |
| 5 | Panis Barthez Competition | 23 | LIGIER JS P2 - Nissan | LMP2 | 29 | 1:38.359 | 153.1 |
| 6 | United Autosports | 3 | LIGIER JS P3 - Nissan | LMP3 | 35 | 1:40.753 | 149.4 |
| 7 | Thiriet By Tds Racing | 46 | Oreca 05 - Nissan | LMP2 | 36 | 1:42.658 | 146.7 |
| 8 | United Autosports | 2 | LIGIER JS P3 - Nissan | LMP3 | 39 | 1:43.073 | 146.1 |
| 9 | Ultimate | 17 | LIGIER JS P3 - Nissan | LMP3 | 40 | 1:43.519 | 145.4 |
| 10 | Pegasus Racing | 29 | Morgan - Nissan | LMP2 | 38 | 1:43.731 | 145.1 |
| 11 | Duqueine Engineering | 19 | LIGIER JS P3 - Nissan | LMP3 | 34 | 1:43.950 | 144.8 |
| 12 | Panis Barthez Competition | 16 | LIGIER JS P3 - Nissan | LMP3 | 36 | 1:44.100 | 144.6 |
| 13 | Eurasia Motorsport | 33 | Oreca 05 - Nissan | LMP2 | 21 | 1:44.461 | 144.1 |
| 14 | M.Racing - YMR | 18 | LIGIER JS P3 - Nissan | LMP3 | 39 | 1:44.997 | 143.4 |
| 15 | RLR MSport | 15 | LIGIER JS P3 - Nissan | LMP3 | 40 | 1:45.142 | 143.2 |
| 16 | Idec Sport Racing | 28 | LIGIER JS P2 - Judd | LMP2 | 37 | 1:45.239 | 143.1 |
| 17 | Graff | 10 | LIGIER JS P3 - Nissan | LMP3 | 39 | 1:45.277 | 143.0 |
| 18 | AF Corse | 51 | Ferrari F458 Italia | LMGTE | 38 | 1:45.976 | 142.1 |
| 19 | Graff | 9 | LIGIER JS P3 - Nissan | LMP3 | 38 | 1:46.049 | 142.0 |
| 20 | Eurointernational | 12 | LIGIER JS P3 - Nissan | LMP3 | 39 | 1:46.147 | 141.8 |
| 21 | Aston Martin Racing | 99 | Aston Martin V8 Vantage | LMGTE | 38 | 1:46.332 | 141.6 |
| 22 | Eurointernational | 11 | LIGIER JS P3 - Nissan | LMP3 | 34 | 1:46.629 | 141.2 |
| 23 | 360 Racing | 6 | LIGIER JS P3 - Nissan | LMP3 | 39 | 1:46.976 | 140.7 |
| 24 | Formula Racing | 60 | Ferrari F458 Italia | LMGTE | 41 | 1:47.259 | 140.4 |
| 25 | JMW Motorsport | 66 | Ferrari F458 Italia | LMGTE | 4 | 1:47.269 | 140.3 |
| 26 | Inter Europol Competition | 13 | LIGIER JS P3 - Nissan | LMP3 | 36 | 1:47.332 | 140.3 |
| 27 | Oak Racing | 24 | LIGIER JS P3 - Nissan | LMP3 | 36 | 1:47.841 | 139.6 |
| 28 | Proton Competition | 77 | Porsche 911 RSR 991 | LMGTE | 39 | 1:47.888 | 139.5 |
| 29 | AT Racing | 56 | Ferrari F458 Italia | LMGTE | 37 | 1:48.258 | 139.1 |
| 30 | AF Corse | 55 | Ferrari F458 Italia | LMGTE | 43 | 1:48.328 | 139.0 |
| 31 | Race Performance | 8 | LIGIER JS P3 - Nissan | LMP3 | 39 | 1:48.527 | 138.7 |
| 32 | Duqueine Engineering | 20 | LIGIER JS P3 - Nissan | LMP3 | 40 | 1:49.302 | 137.7 |
| 33 | Villorba Corse | 7 | LIGIER JS P3 - Nissan | LMP3 | 20 | 1:50.156 | 136.7 |
| 34 | Proton Competition | 88 | Porsche 911 RSR 991 | LMGTE | 29 | 1:50.256 | 136.5 |
| 35 | SMP Racing | 32 | BR 01- Nissan | LMP2 | 14 | 1:51.033 | 135.6 |
| 36 | Oak Racing | 4 | LIGIER JS P3 - Nissan | LMP3 | 38 | 1:52.089 | 134.3 |
| Pos | Team | Car number | Car | Category | Laps | Best lap | Av. Speed |
| --- | --- | --- | --- | --- | --- | --- | --- |
| 1 | DragonSpeed | 21 | Oreca 05 - Nissan | LMP2 | 6 | 1:44.146 | 144.6 |
| 2 | Panis Barthez Competition | 23 | LIGIER JS P2 - Nissan | LMP2 | 6 | 1:44.553 | 144.0 |
| 3 | G-Drive Racing | 38 | Gibson 015S - Nissan | LMP2 | 6 | 1:44.758 | 143.7 |
| 4 | Krohn Racing | 40 | LIGIER JS P2 - Nissan | LMP2 | 5 | 1:45.237 | 143.1 |
| 5 | SMP Racing | 32 | BR 01- Nissan | LMP2 | 5 | 1:45.857 | 142.2 |
| 6 | Idec Sport Racing | 28 | LIGIER JS P2 - Judd | LMP2 | 6 | 1:46.352 | 141.6 |
| 7 | Thiriet By Tds Racing | 46 | Oreca 05 - Nissan | LMP2 | 6 | 1:47.125 | 140.5 |
| 8 | Pegasus Racing | 29 | Morgan - Nissan | LMP2 | 6 | 1:47.382 | 140.2 |
| 9 | Greaves Motorsport | 41 | LIGIER JS P2 - Nissan | LMP2 | 5 | 1:50.056 | 136.8 |
| 10 | United Autosports | 2 | LIGIER JS P3 - Nissan | LMP3 | 5 | 1:50.355 | 136.4 |
| 11 | United Autosports | 3 | LIGIER JS P3 - Nissan | LMP3 | 5 | 1:50.541 | 136.2 |
| 12 | Duqueine Engineering | 19 | LIGIER JS P3 - Nissan | LMP3 | 6 | 1:51.045 | 135.6 |
| 13 | Duqueine Engineering | 20 | LIGIER JS P3 - Nissan | LMP3 | 6 | 1:51.112 | 135.5 |
| 14 | Panis Barthez Competition | 16 | LIGIER JS P3 - Nissan | LMP3 | 6 | 1:51.318 | 135.2 |
| 15 | Villorba Corse | 7 | LIGIER JS P3 - Nissan | LMP3 | 6 | 1:51.487 | 135.0 |
| 16 | RLR MSport | 15 | LIGIER JS P3 - Nissan | LMP3 | 6 | 1:51.982 | 134.4 |
| 17 | Graff | 9 | LIGIER JS P3 - Nissan | LMP3 | 5 | 1:52.309 | 134.1 |
| 18 | M.Racing - YMR | 18 | LIGIER JS P3 - Nissan | LMP3 | 5 | 1:52.664 | 133.6 |
| 19 | 360 Racing | 6 | LIGIER JS P3 - Nissan | LMP3 | 5 | 1:52.778 | 133.5 |
| 20 | Eurasia Motorsport | 33 | Oreca 05 - Nissan | LMP2 | 6 | 1:53.138 | 133.1 |
| 21 | Race Performance | 8 | LIGIER JS P3 - Nissan | LMP3 | 6 | 1:53.179 | 133.0 |
| 22 | Ultimate | 17 | LIGIER JS P3 - Nissan | LMP3 | 5 | 1:53.205 | 133.0 |
| 23 | Eurointernational | 12 | LIGIER JS P3 - Nissan | LMP3 | 5 | 1:53.313 | 132.9 |
| 24 | Graff | 10 | LIGIER JS P3 - Nissan | LMP3 | 5 | 1:53.507 | 132.6 |
| 25 | Inter Europol Competition | 13 | LIGIER JS P3 - Nissan | LMP3 | 6 | 1:53.692 | 132.4 |
| 26 | Oak Racing | 24 | LIGIER JS P3 - Nissan | LMP3 | 5 | 1:53.829 | 132.3 |
| 27 | Proton Competition | 88 | Porsche 911 RSR 991 | LMGTE | 5 | 1:54.754 | 131.2 |
| 28 | AT Racing | 56 | Ferrari F458 Italia | LMGTE | 5 | 1:55.091 | 130.8 |
| 29 | Oak Racing | 4 | LIGIER JS P3 - Nissan | LMP3 | 5 | 1:55.103 | 130.8 |
| 30 | Eurointernational | 11 | LIGIER JS P3 - Nissan | LMP3 | 5 | 1:55.747 | 130.1 |
| 31 | AF Corse | 51 | Ferrari F458 Italia | LMGTE | 5 | 1:55.809 | 130.0 |
| 32 | AF Corse | 55 | Ferrari F458 Italia | LMGTE | 5 | 1:55.975 | 129.8 |
| 33 | JMW Motorsport | 66 | Ferrari F458 Italia | LMGTE | 5 | 1:56.409 | 129.3 |
| 34 | Formula Racing | 60 | Ferrari F458 Italia | LMGTE | 5 | 1:56.964 | 128.7 |
| 35 | Proton Competition | 77 | Porsche 911 RSR 991 | LMGTE | 5 | 1:57.130 | 128.5 |
| 36 | Aston Martin Racing | 99 | Aston Martin V8 Vantage | LMGTE | 5 | 1:57.213 | 128.4 |
| Pos | Team | Car number | Car | Category | Laps | Best lap | Av. Speed |
| --- | --- | --- | --- | --- | --- | --- | --- |
| 1 | G-Drive Racing | 38 | Gibson 015S - Nissan | LMP2 | 145 | 1'33.256 | 161.4 |
| 2 | DragonSpeed | 21 | Oreca 05 - Nissan | LMP2 | 145 | 1'32.898 | 162.1 |
| 3 | SMP Racing | 32 | BR 01- Nissan | LMP2 | 145 | 1'33.867 | 160.4 |
| 4 | Krohn Racing | 40 | LIGIER JS P2 - Nissan | LMP2 | 145 | 1'33.072 | 161.8 |
| 5 | Eurasia Motorsport | 33 | Oreca 05 - Nissan | LMP2 | 143 | 1'34.712 | 159.0 |
| 6 | Idec Sport Racing | 28 | LIGIER JS P2 - Judd | LMP2 | 141 | 1'34.424 | 159.4 |
| 7 | M.Racing - YMR | 18 | LIGIER JS P3 - Nissan | LMP3 | 140 | 1'37.585 | 154.3 |
| 8 | Panis Barthez Competition | 23 | LIGIER JS P2 - Nissan | LMP2 | 139 | 1'35.831 | 157.1 |
| 9 | United Autosports | 3 | LIGIER JS P3 - Nissan | LMP3 | 138 | 1'38.024 | 153.6 |
| 10 | Graff | 9 | LIGIER JS P3 - Nissan | LMP3 | 138 | 1'38.643 | 152.6 |
| 11 | Graff | 10 | LIGIER JS P3 - Nissan | LMP3 | 137 | 1'39.513 | 151.3 |
| 12 | Inter Europol Competition | 13 | LIGIER JS P3 - Nissan | LMP3 | 137 | 1'39.679 | 151.0 |
| 13 | Eurointernational | 12 | LIGIER JS P3 - Nissan | LMP3 | 137 | 1'39.641 | 151.1 |
| 14 | Race Performance | 8 | LIGIER JS P3 - Nissan | LMP3 | 137 | 1'39.941 | 150.6 |
| 15 | Villorba Corse | 7 | LIGIER JS P3 - Nissan | LMP3 | 137 | 1'39.080 | 151.9 |
| 16 | Duqueine Engineering | 19 | LIGIER JS P3 - Nissan | LMP3 | 136 | 1'39.717 | 151.0 |
| 17 | RLR MSport | 15 | LIGIER JS P3 - Nissan | LMP3 | 136 | 1'39.131 | 151.9 |
| 18 | Aston Martin Racing | 99 | Aston Martin V8 Vantage | LMGTE | 136 | 1'40.891 | 149.2 |
| 19 | AT Racing | 56 | Ferrari F458 Italia | LMGTE | 135 | 1'40.476 | 149.8 |
| 20 | United Autosports | 2 | LIGIER JS P3 - Nissan | LMP3 | 135 | 1'37.519 | 154.4 |
| 21 | AF Corse | 55 | Ferrari F458 Italia | LMGTE | 135 | 1'41.132 | 148.9 |
| 22 | AF Corse | 51 | Ferrari F458 Italia | LMGTE | 135 | 1'40.944 | 149.1 |
| 23 | Oak Racing | 4 | LIGIER JS P3 - Nissan | LMP3 | 132 | 1'43.523 | 145.4 |
| 24 | Oak Racing | 24 | LIGIER JS P3 - Nissan | LMP3 | 131 | 1'41.814 | 147.9 |
| 25 | Proton Competition | 88 | Porsche 911 RSR 991 | LMGTE | 131 | 1'40.477 | 149.8 |
| 26 | Ultimate | 17 | LIGIER JS P3 - Nissan | LMP3 | 129 | 1'39.387 | 151.5 |
| 27 | Proton Competition | 77 | Porsche 911 RSR 991 | LMGTE | 125 | 1'40.960 | 149.1 |
| 28 | Thiriet By Tds Racing | 46 | Oreca 05 - Nissan | LMP2 | 121 | 1'33.627 | 160.8 |
| 29 | Duqueine Engineering | 20 | LIGIER JS P3 - Nissan | LMP3 | 130 | 1'40.582 | 149.7 |
| 30 | Panis Barthez Competition | 16 | LIGIER JS P3 - Nissan | LMP3 | 106 | 1'39.904 | 150.7 |
| 31 | Greaves Motorsport | 41 | LIGIER JS P2 - Nissan | LMP2 | 87 | 1'35.650 | 157.4 |
| 32 | Eurointernational | 11 | LIGIER JS P3 - Nissan | LMP3 | 84 | 1'38.472 | 152.9 |
| 33 | 360 Racing | 6 | LIGIER JS P3 - Nissan | LMP3 | 82 | 1'39.635 | 151.1 |
| 34 | JMW Motorsport | 66 | Ferrari F458 Italia | LMGTE | 45 | 1'41.987 | 147.6 |
| 35 | Formula Racing | 60 | Ferrari F458 Italia | LMGTE | 32 | 1'43.830 | 145.0 |
| 36 | Pegasus Racing | 29 | Morgan - Nissan | LMP2 | 139 | 1'36.527 | 156.0 |